"Paradise exists and it is Samoa!!!"
"Talofa Lava in Samoa, Palagi!!!" – "Welcome to Samoa, white faces!!!
We had planned our trip to Samoa for August 2015 and we just couldn't choose a better time to visit this tiny Pacific state. There was a "severe and cruel" winter ruling in New Zealand and nice and pleasant dry season with average temperature around 28°C in Samoa. Most Kiwis would laugh hard at my description of the New Zealand winter as a "severe and cruel" one. They think we all come from Siberia and we are used to extreme temperatures below zero. It is true, that the temperature in Auckland rarely drops below zero and is settled around 5°C most of the time. However, it is raining there constantly and chilly wind blows from the ocean. You feel actually much cooler than when it is – 10 °C and frosty, but the weather is dry and the sky crystal clear.  The main reason, why is New Zealand winter so hard for Europeans, are the local houses. Due to frequent earthquakes Kiwis don't build brick or concrete houses, but only wooden ones. We wouldn't blame them if they at least knew how to insulate the houses properly. Typical New Zealand house looks almost like our garden shed (no offense, my dear Kiwi friends) and when it is 5 °C outside, it is f*cking freezing 7 °C inside, wet and mouldy. We spent the winter constantly sick.  Watching TV at home, we sat in our living room in winter jackets. Crazy as…
But enough about New Zealand winter – that was the thing we escaped from.
I am going to tell you about the best holiday I've had in my life but before that it would befit to mention few basic facts about this amazing country. Samoa is a small island nation located in the South Pacific and for most the Europeans absolute terra incognita. Officially independent State of Samoa, formerly known as Western Samoa.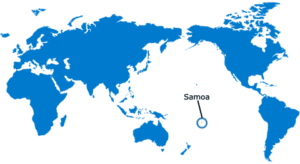 It became independent from the New Zealand overrule in 1962. Samoa consist of 10 islands, two main and largest are called Upolu and Savaii. You can find the capital city Apia and its 37.000 residents on the Upolu island. Samoan islands are located south of the equator halfway between New Zealand and Hawaii and have originated from volcanic activity of the Earth. There is a tropical monsoon climate with average annual temperature of 26.5 °C.
The population is just over 194.000 with 75 % residents living on Upolu Island. In the history Samoa and its inhabitants were known as aggressive and bloodthirsty warriors and cannibals. The mentality here has changed dramatically thanks to the arrival of the first Christian missionaries around the year 1830. Natives like to joke, that they were able to preserve their pugnacity at least while playing rugby. Truth be told, they are one of the best players in the world and they often play for New Zealand All Blacks or Australian teams.  Apart from great rugby players, they also export coconuts, coconut oil, taro and other farming products. You can see coconut palms everywhere and they perfectly highlight exotic tropical atmosphere.
Despite the century of intensive European influence Samoa has preserved its cultural values, traditions and language. After the arrival of Christian missionaries, most of the population has converted to Christianity, although they still honour their ancient gods and spirits.
Now back to our adventure. On 15th of August 2015 we landed on the Apia international airport. Our white faces had attracted a particular attention of local merchants and taxi drivers. Before we'd managed to break free from their clutches, we missed the last bus going to the city. We only had two options left – pay overpriced fare for a taxi or hitchhike. As true backpackers of course we chose the second option. To our surprise the first car pulled over. Two young Chinese boys, who work on Samoan telecommunication project, drove us to the city centre. Our original plan was to rent a scooter and explored both island on it. Unfortunately, we found out that nearly all the scooters were flushed from the island by devastating tsunami in 2009. We rented a car instead and left Apia heading south coast on an inland road.
It was getting dark quickly, so we went for the first and definitely not cheapest accommodation we found on the Mulivai beach. We had more time to explore the next day and we found beautiful and cheap Sina PJ beach fale. The owner Mala was very welcoming and shared a lot his stories with us. He told us about his life in Samoa, how he doesn't need a watch, because he knows when the sun rises and sets, about his passion for fishing and how he survived that infamous 2009 tsunami only because he climbed on the top of a palm tree where he waited for several hours for the water to fall down. Many of his friends and relatives weren't unfortunately as lucky as Mala. We became friends of Mala, exchanged our contact details and extended our stay at his fale.
Read more here: